Stephanie Smothers (Anna Kendrick) is a widowed, single mother who, after the death of her husband, started a cooking vlog. She is overly nice and volunteers for every activity at the school her son, Miles (Joshua Satine) goes to, much to the irritation of the other parents.
All the parents agree that Emily Nelson (Blake Lively) is unlikely to volunteer for any of the upcoming fair's activities. Emily runs PR for a fashion company, Dennis Nylon (Rupert Friend), and is the envy of the other parents.
When school finishes, Nicky (Ian Ho), Emily's son, and Miles best friend, wants Miles to come for a play date. Emily, who has turned up in her Porsche to pick him up, agrees and invites Stephanie back to the house for drinks.
Stephanie is a little starstruck by the glamorous Emily, impressed by her stylishness, beautiful home, and confidence. Emily seems nonplussed by her own life, mixing the two ladies martinis. She tells Stephanie that her husband, Sean (Henry Golding), is an author, and he had written a well-known book. Stephanie knows the book, having read it herself. Emily tells her he does not write anymore.
Emily asks if she is divorced. No, Stephanie tells her, she is widowed. Her husband and brother died in the same car accident. She says that fortunately, her husband had life insurance, and she has been surviving on that. Emily bemoans her financial burdens, as she is the one who brings in the money.
Stephanie tells Emily that she will look after Nicky, pick him up after school if she ever needs it. A few days later, Stephanie gets a call. Can she pick up Nicky? Stephanie tells her it's not a problem.
Emily meets her a little later in the park and takes umbrage when Stephanie takes a photograph of her, insisting that she delete it, even threatening to take legal action. Stephanie deletes the photo.
The ladies return to Emily's house for some drinks again. Emily tells Stephanie that she and Sean had a threesome with one of Sean's teaching assistants. She asks Stephanie if she ever did anything bad. Stephanie tells her that she kissed her half-brother. Emily asks if that was all that happened. Stephanie's hesitation tells her that it was more than just a kiss.
The next day, Emily asks Stephanie to pick up Nicky again. Stephanie picks the boys up. Later in the day, she cannot get a hold of Emily. Two days later, she calls Sean. He is in England seeing his sick mother. Sean comes to see Stephanie when he returns, they call the police. The police initially look at Sean as the most likely person to be the reason for her disappearance.
Stephanie comes to his defense, saying she has seen how loving they were as a couple. Besides, he was in London. Sean stays over at Stephanie's home. The next morning he gets up and makes breakfast for them and the boys. Stephanie, not used to having a man in the house for so many years, is immediately enamoured.
Stephanie tells her vlog audience about the ongoing Emily situation, enlisting their help to try and find her. She then takes it upon herself to go to Emily's workplace, and see Dennis Nylon. She sneaks into Emily's office and snoops around, finding a photograph of her. Stephanie pretty much lives with Sean as the police look for Emily.
Sean gets a call. The police have found a body in a lake. Sean goes to identify the body. It is Emily. Stephanie tells her vlog audience that Emily is dead. Stephanie stays with Sean over the funeral period. They end up getting together. Stephanie sees Sean at work, hugging a woman. She begins to suspect something is not right.
At dinner, Nicky says he saw his mother. Sean tries to tell him he must be mistaken, but Nicky insists that he did see her. Stephanie tells Sean she feels like Emily is still around. He tells her that Emily was not the person she thought she was. She asks him why he took out a four million dollar insurance policy on her. He tells her that Emily actually got the idea from her.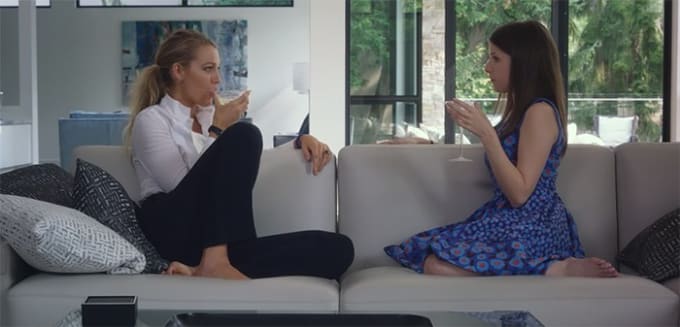 Sean asks her to move in with him. Stephanie agrees and clears all of Stephanie's clothes from the walk-in wardrobe. When she returns with some of her own clothes, she is spooked to see the wardrobe back how it was before, filled with clothing. She then gets a photograph from Emily. Emily calls. She tells Stephanie to say hi to Sean.
Stephanie goes to Sean wanting to know if he and Emily are trying to scam her. He tells her that Emily is dead, and she is overreacting. Stephanie recalls telling Emily how her husband and brother died, with her husband killing both of them deliberately because he suspected that Miles was not his child.
Stephanie tracks down an artist, Diana Hyland (Linda Cardellini) who did a painting of Emily. Diana did not know her as Emily, she knew her as Claudia, and she was her muse. Emily/Claudia conned Diana out of a lot of money, even having her pay for her to get through college. Stephanie asks if Emily/Claudia ever mentioned Michigan. Diana gives her a sweatshirt that shows a summer camp she used to go to as a child.
Stephanie goes to the holiday camp. She finds some old photos of Emily. It turns out that she is a twin. She tracks down her parents. They live in an old, remote house, surrounded by land. Stephanie goes to the house and talks to her mother, Margaret (Jean Smart). Margaret tells her that one of the daughters was evil.
The daughters were named Faith and Hope, and they caused a fire in one wing of the house before running away. Stephanie records another vlog, knowing that Emily/Claudia/Hope will watch it. She contacts the insurance company, telling them she thinks that Emily may be alive. Emily comes out of hiding to meet up with an unsuspecting Sean. He had no idea she was alive.
Stephanie tells Sean that Emily had a twin. He did not know. Stephanie meets up with Emily. Emily tells her that her sister drowned, and she just used her drowning to disappear. Stephanie does not believe her. Emily killed her because, Faith, now a heroin addict, was trying to blackmail her for drug money.
Emily comes up with another plan, persuading Stephanie to frame Sean. He gets arrested for allegedly forcing Emily to stage her own death. Stephanie and Sean try to double-cross Emily, with Stephanie pretending to shoot Sean. Emily sees through the ruse and shoots Sean, wounding him. She is about to shoot Stephanie, but Stephanie tells her that they are live streaming, the police are on the way.
Emily tries to escape but gets hit by a car as she goes runs off. The police arrest her. Six months later, Stephanie is still vlogging, hitting one million subscribers. She also becomes a sleuth for cold cases. The end.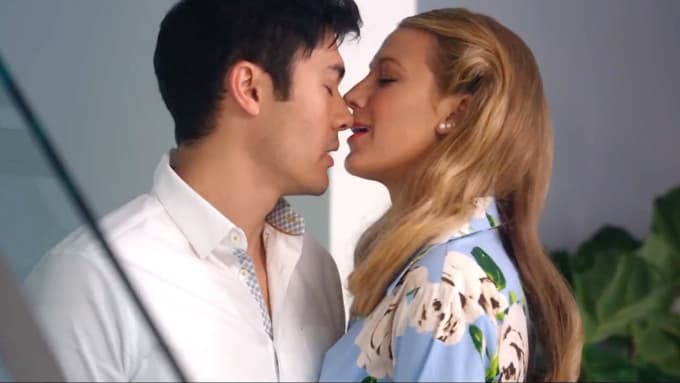 A Simple Favour, from a novel by Darcey Bell, with a script by Jessica Sharzer, is directed by the ever-prolific Paul Feig, the director behind Bridesmaids, The Heat, Spy and the Ghostbusters remake.
A little darker than his usual fare, Feig's A Simple Favour is, nonetheless, a comedy. Anna Kendrick, best known for the Pitch Perfect films, is great as the Stepford-esque, Scooby gang's lost member, Stephanie. She perfectly contrasts the striking Blake Lively's Emily. Lively too is perfect as the compulsive, manipulative Emily.
The story zips along, Stephanie being understandably taken in by the seemingly sophisticated Emily, whose handsome, loving husband and beautiful home is a dream for Stephanie. That someone as luminous as Emily should want to be her friend, proves irresistible to Stephanie.
The film is a strong mix of straight forward thriller and comedy, with certain aspects of the film; when Stephanie goes to Dennis Nylon or the scenes with the other parents, played purely for laughs. The car crash that kills Stephanie's brother and husband is horrific, with not a sliver of humour around the scene.
Sharzer's script is sparkling, the conversations and voices of each character very distinct and deliberate. There are very few indulgent scenes, with the near two-hour runtime filled with a compelling story ably told by all on show.
A Simple Favour is a film that does not disappoint; amusing and entertaining in equal measure. Definitely worth adding to your watch list.